Nitrate-nitrite poisoning in mature bulls
Unusual presentation:
Death overnight of 15 bulls being held in cattle yards following routine examination.
Time and location: February 2020, northeast WA.
Case definition: Mature Charbray bulls (4-8 years of age) that die within a day of being drafted into a small yard. Dead bulls are found in lateral recumbency, no real signs of struggle, not bloated but all having had ruminal fluids drain orally.
Disease mapping: 250 bulls were yarded for fertility examinations conducted over three days. The vet was delayed by a day so the  bulls, which had been yarded the day before the scheduled start, were tailed out to be fed and re-yarded the night before processing started. 80 bulls were processed on the first day of the with 15 culls being drafted into small side yard. The yard had wet season growth of pigweed, button grass, horse bean and a little forage sorghum; and most of this had been consumed by the end of the day. The next morning one bull (in poorer condition and culled for blindness) was found dead. Another 98 bulls were processed on the second day and 25 culls drafted. The cull bulls were put into a separate area to the good bulls. On the morning of third day, 14 of the 40 culls were found dead.
Gross findings: Aqueous humour was collected from the eyes of three bulls. Another 3 bulls were autopsied but autolysis had started. The blood was dark. The rumens were reasonably full of what looked to be the grasses and weeds present in the yard and not much else. Liver and kidney samples were collected. Samples of pigweed and button grass were collected another small, unused yard. Intoxication headed the differential list, with nitrate/nitrite poisoning considered the most likely.
Laboratory findings: Nitrate-Nitrogen levels in the aqueous humour of all samples exceeded the assay limit and confirmed the diagnosis. The nitrate level of both plant samples was above 1% on a dry matter basis, a level regarded as high and hazardous to stock.
Animal / management / environment risk factors: These plants were growing vigorously in nitrogen-enriched soils in the cattle yards. The bulls were hungry, having been off feed, and had little rumen fill to dilute the forage.
Recommendations: Don't underestimate the potency of forage that grows in cattle yards over a wet season especially if the livestock are hungry with empty rumens. Ways to mitigate:
Do not give empty hungry cattle access to feed that has grown in yards especially if wilted. Feed palatable hay to dilute the forage that is consumed.
If practical, removing the forage from the yard prior to introduction (eg dragging with a heavy object to reduce the volume and make less accessible to livestock).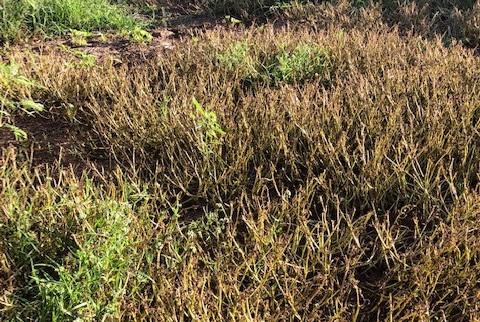 Above: Wet season growth with pigweed and button grass predominating.