The SDI Network
Want to talk? Call NABS Vet Adviser
Kev 0427 433 244
Events
Events of interest to SDI Network members
Please contact Kevin Bell, the NABS Vet Adviser at [email protected], if you would like to post details of an event.
There are no upcoming events at this time.
About NABSnet
NABSnet enables SDI Network members to share key resources and information
What is NABS?
NABS is the Northern Australia Biosecurity Surveillance Framework. It was established through the
Developing Northern Australia
and
Agricultural Competitiveness
White Papers in 2016 to build effective and sustainable surveillance systems for the priority diseases of plants, animals and fisheries.
Why did NABS start the SDI Network?
The SDI Network is a NABS initiative to help ensure the veterinary response to significant disease events of cattle is timely and effective. Reactive  surveillance (SDIs) are a cornerstone of onshore biosecurity.
How does it work?
The SDI Network has three components:
What are its objectives?
SDIs are the pathway to early detection of disease incursions, management of production issues in cattle herds and continued market access.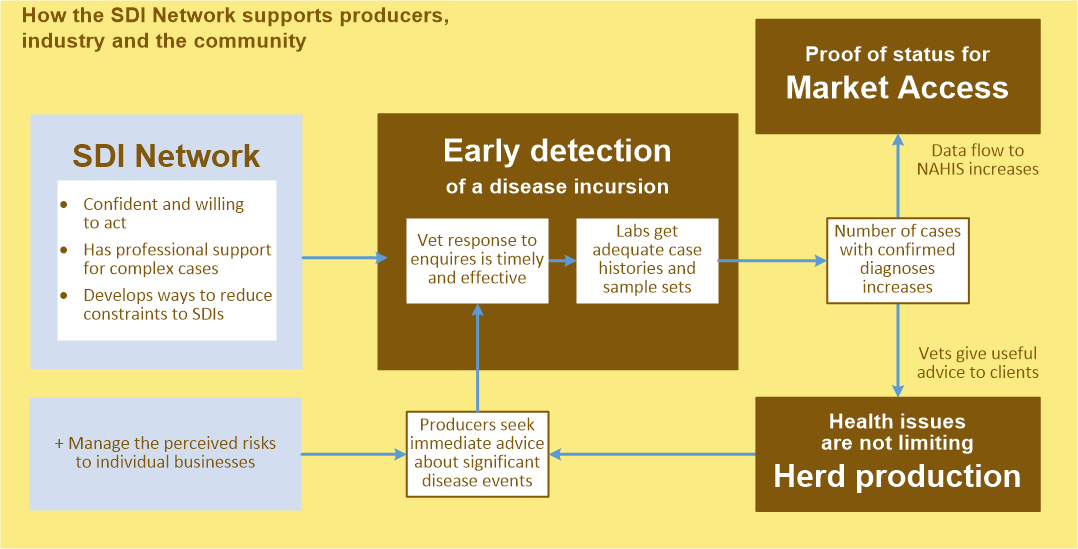 What is the 2019 target?
The target for the SDI Network (including private and government) is 85  high quality disease investigations in Northern Australia in 2019.
Who governs the SDI Network?
The NABS Animal Working Group has oversight of the SDI Network. The group is funded by the Commonwealth Government and has biosecurity representatives from each of the state governments in the north (WA, NT and Queensland) and Animal Health Australia.