Lumpy Skin Disease reaches Indonesia
Lumpy Skin Disease is a serious threat to Australia's cattle herd and export markets. Cases were confirmed on the Indonesia island of Sumatra in March 2022. Early detection and reporting is critical to containment of this disease.
Above: Rapid spread of LSD through Asia since 2019 to Indonesia in April 2022 (source: FAO Empres-i).
Lumpy Skin Disease (LSD) is a pox virus infection of cattle and buffalo that has never been reported in Australia.  
LSD is endemic in many African countries, has spread through eastern Europe and the Middle East since 2012 and through southeast Asia since 2019.
The name comes from the characteristic lesions it causes  – circumscribed, round and raised nodules in the skin and the 'sit-fasts' that form following their necrosis and fibrosis – nothing else looks quite like it. However pathology is not limited to the skin and significant lesions can also occur in the gastrointestinal tract, trachea and lungs. A range of clinical signs is also possible, from inapparent infection to animals with a high temperature, ocular and nasal discharges, excessive salivation and enlarged superficial lymph nodes.
If you think LSD is a possibility, ring your state or territory government veterinarians directly or the Emergency Animal Disease Watch Hotline 1800 675 888.
Multiple skin biopsies (fresh and fixed) and blood samples enable differential diagnoses of endemic diseases such as Bovine Herpesvirus 2 (BHV-2), pseudocowpox and bovine papular stomatitis. See the CSIRO EAD Field Guide for more information.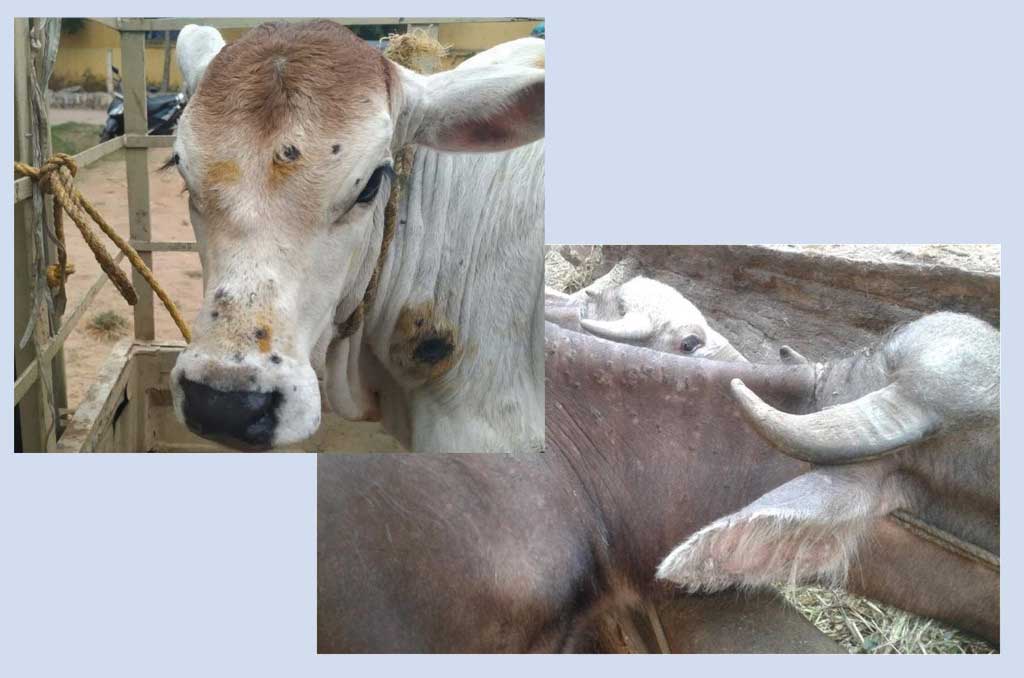 Above: LSD skin lesions in  Zebu and a water buffalo (Rajesh Singh, Pashudhan Praharee, 2020 ; Ahmed Neamat-Allah & Essam Mahmoud, Comparative Clinical Pathology Vol 28, 2019)